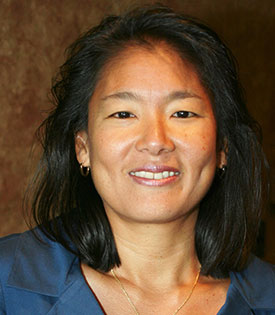 Lisa Aranas, MA, JD, LCPC
Office Locations: Buffalo Grove Office, Hoffman Estates Office
Phone: 847.913.0393 x 136
Lisa is a licensed clinical professional counselor who received her master's in family counseling in 2001 from Northeastern Illinois University. Since receiving her degree, she has devoted herself to helping adults, adolescents, couples, and families experience a better sense of harmony and happiness within their lives.
Clients Served:
Adolescents, Adults, Couples, Families
Biography
A certified personal trainer as well, she is keenly aware of the connection between mind and body and how one's physical well-being can affect moods and self-esteem and vice versa. Additionally, Lisa has worked extensively with families with drug and alcohol problems and understands there are underlying reasons behind the use. Lisa is skilled at helping clients resolve these issues with the goal of helping them attain a drug-free lifestyle. She is also a Certified Holistic Nutritionist.
Lisa also received her law degree from Loyola University of Law in 1992 where she focused on family law. She later certified as a divorce and custody mediator. This has allowed Lisa to have a unique perspective on the limits of the law as well as mediation. Understanding that failed or strained relationships often evoke strong emotions which get in the way of rational thinking, she is very passionate in working with couples to help them gain emotional clarity of themselves and their relationships. She will help her clients define and achieve their goals, whether that means bettering their relationship, helping them part on amicable terms, or working effectively together for the sake of their children.
In addition to Lisa's counseling, personal training and legal background, Lisa also worked in the personal financial planning field for several years. Recognizing that each person is impacted from the various aspects of their lives- work, school, financial, spiritual, social, family and physical, she utilizes a holistic approach in counseling. With a warm, relaxed, but direct approach, Lisa helps clients to either come to terms with what is, or to bridge the gap between what is and what they would like it to be.
Treatment Issues
Self-Esteem
Anxiety
Body Image
Parenting/Family Conflict
Gay & Lesbian
Parenting
Depression
Mental, Physical, Sexual Abuse
Divorce & Custody
Marital/Couples Relationships
Parent-Child Relationships
Anger Management
Treatment Models
Cognitive-Behavioral Therapy
Experiential Therapy
Family Systems
Solution-Focused Therapy
"Since I started seeing Lisa, she has successfully helped me and my family through different issues that have come up in our lives. Lisa and I have a relationship built on honesty and trust. Her ability to discuss tough topics through a combination of honesty, sensitivity, laughter and patience are skills that cannot be learned. I feel comfortable sharing intimate details of my life, knowing she will listen without judgment, give me honest and straightforward insight, and doing it all with care and compassion. I look forward to meeting with her. Everyone should have a Lisa in their lives."
J.K
"At a time in our family situation when we needed to turn to counseling, we are so thankful for Lisa Aranas at Arbor Counseling Center. Her professionalism, counsel, wisdom and incredible support have been life-changing for our family. Through Lisa's guidance and understanding, through the many tools and new perspectives she has given us, and always being a "safe place" for us to work through difficult issues, we have experienced so much growth and healing in ourselves and in our relationship with each other. She has been and continues to be a blessing in our lives."
Janice
Location & Phone
Office Locations: Buffalo Grove, Hoffman Estates Office
Phone: 847.913.0393 x 136