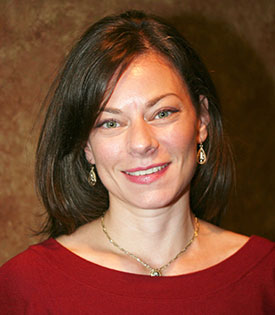 Stephanie Russo, LCPC, Clinical Supervisor
Office Locations: Gurnee Office,
Phone: 847-913-0393 x139
Stephanie M. Russo, MA, LCPC received her Master's Degree in Clinical Psychology from Argosy University/Illinois School of Professional Psychology. She has experience working with child-welfare agencies, inpatient psychiatric hospitals, community-based mental health, and private practice. She also teaches psychology courses in a college setting.
Clients Served:
Adolescents, Adults.
Biography
Stephanie is dedicated to helping people achieve positive change and personal growth. She sees her role in the therapy process as being a guide and an encourager. She understands that making the decision to talk with someone can be difficult and sometimes even scary for clients, "It's really important to me to build trust with my clients and help them feel comfortable in the therapy process."
Stephanie works with children, adolescents, and adults facing a variety of life issues. She has a background in working with trauma and is trained in Eye Movement Desensitization and Reprocessing (EMDR), an effective form of therapy that helps with healing from past trauma along with other problems.
Treatment Issues
Emotional, Physical & Sexual Abuse
Anxiety
Depression
Family Dysfunction
Grief & Loss Issues
Stages of Life
Marital/Couples Relationships
Parenting Concerns
Postpartum Concerns
Trauma & Post-Traumatic Stress Disorder (PTSD)
Relationship Issues
Self-Esteem
Self-Injury
Sexual Addiction
Stress Management
Anger Management
Trauma Recovery
Treatment Models
Cognitive-Behavioral Therapy
Dialectical-Behavioral Therapy
Eye Movement Desensitization and Reprocessing (EMDR)
Play Therapy
Psychodynamic Treatment
Solution-Focused Therapy
Group Therapy
We all have different needs when it comes to communicating our issues and receiving help. I am thankful that I found Stephanie because her style and methods were exactly what I was looking for. She understands that part of how I sort through my feelings is by verbally processing my thoughts. Stephanie is always very present in our sessions and I feel that I have her undivided attention at all times. She listens to what is on my mind, often asks questions I have not thought of, and offers new perspectives in which to view situations. She makes her comments and suggestions tactfully and while she may propose new viewpoints, she is never pushy. I really can't say enough good things about my visits with Stephanie and would highly recommend her services to others.
My 8 year old son was struggling significantly with anxieties this past year. I've found Stephanie has helped him to better understand these anxieties, providing him with ways to cope. My son wants to feel better and I believe he listens carefully to what she says. She is easy going, kind and patient. And she communicates well with me on his progress. It's been a positive experience working with her toward making my son a healthier and happier kid.
Location & Phone
Office Locations: Gurnee Office
Phone: 847-913-0393 x139