Making Room for Grief 
Grief can stop time. We can be brought to our knees, unable to believe we will ever move beyond the gaping hole of loss that has forever changed the landscape of our lives. Enduring profound loss is one of the most painful of human experiences. But almost as excruciating is being witness to the grief of someone we love.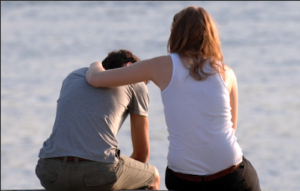 Healing Their Hurts 

When we love someone, we want to protect and shelter them from pain. We try to heal their hurt, or, even better, keep them from being wounded in the first place. But our instincts can be misguided, even hurtful, if we truncate the course of someone's grief process. Rather than easing their pain, attempting to curtail grief can create a sense of minimizing the loss. People who don't feel they have the right or "permission" to grieve as deeply or for as long as they need to report feeling shame and guilt, and experience anger and resentment toward those who may have communicated that their grief is unwarranted. Even the best intentions — an attempt to encourage a grieving person to "forget" their loss or to imply that the loss is "for the best" — can cause deep pain and confusion. People who've lost a loved one, a job, even a coveted dream, most need validation. They need to hear that their feelings are valid, real and deserved. We must communicate that they have every right to their sorrow, to express it in ways that feel right for them, and that grief has no prescribed end date. Grieving people need to know we will remember with them, not push them to forget. Paying witness to another's grief can be a powerful gift of intimacy and healing, confirming the value of the lost person, relationship or experience, and reminding us all of the preciousness of time and connection.