Being evacuated from the path of a hurricane gave me a new perspective on the priority of my self-care.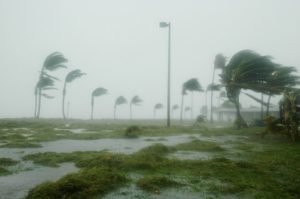 As a lifelong Midwesterner, I never thought I'd hear, "We are in the direct path of the hurricane." The closest I'd been to a devastating weather event was watching news footage of hurricanes, tornadoes and tsunamis on the Weather Channel. Now, just days into our vacation, we were being instructed to leave our hotel on the Florida coast, or better yet, leave the state to ensure our safety from this devastating storm. We didn't have much time to process our feelings –we had to pack, cancel plane reservations, find a rental car that would allow us to drive back to Illinois without costing four figures. But as we drove (and drove, and drove, and drove)​ ​toward home; I became aware of the grief and resentment bubbling up inside me. I was sad and angry at having to give up my much-anticipated time off, to forego my shell seeking on the beach, my lazy afternoons at the pool, my evenings sipping something tropical and fruity while I enjoyed live music at the bar on the pier. It's not fair! My inner four-year-old self tantrum. I'd waited months for this trip, weeks and weeks of anticipating finally getting to relax, to turn off my phone, and give up cooking and cleaning and laundry for one blessed week of rest. But as I fumed in the stop and go (MUCH more stop than go) traffic on the interstate out of the Sunshine State, I realized my error was in setting aside only my vacation time to unplug and unwind. Why did I believe that I needed to be hundreds of miles from home to give myself permission to silence my phone? To let the laundry pile up and read a book on the back porch instead? To order in rather than cook a full meal of a busy weeknight?  Or go take an afternoon to enjoy the Bob Marley station I discovered on Pandora with a cold beer? When did I start thinking that all my "to-dos" had to be checked off before I allowed myself to play?
I won't have another vacation scheduled for several months. And it may be more than a year until I can sink my toes into sand or hear the roaring of the ocean surf. But I discovered, in the cramped hot, rental car on the Florida turnpike, fleeing a category 5 hurricane, that I can choose to let go, to relax and cut myself a break, anytime and anywhere — whether in sneakers or flip flops; whether the view out my window includes palm trees or a suburban lawn much in need of a good mowing. I can give myself grace to savor a banana daiquiri in the middle of December, or to kick back on the couch with a paperback thriller for an hour before paying bills or checking email yet again. Thankfully, disasters like Hurricane Irma are not daily events. But I can choose to enjoy a "vacation break" anytime.